Research Associate India (TVöD E13, 80%) – all gender – (Berlin) – TMG Research gGmbH
TMG Research gGmbH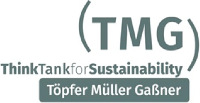 Beschreibung:

At TMG. Töpfer, Müller, Gassner – ThinkTank for Sustainability, we work to empower sustainability transformations. Together with stakeholders from science, civil society, politics, and the private sector we develop innovative strategies for the implementation of sustainable development agendas.

TMG Research is implementing a research project on Ecosystem-based Adaptation (EbA) in Guatemala and India. The project aims to identify scalable approaches to EbA and to influence the structural conditions that make up-scaling possible. This project's Theory of Change foresees creating incentives for policy change by linking national level policy processes to the global processes on implementing the SDGs and the Paris Agreement. It further foresees to inform policy processes through locally-led research processes on workable EbA measures. At the local level, we will work to empower the intended beneficiaries of EbA to become active agents in these research processes.

TMG Research is currently seeking applications for a Research Associate (80%) – all gender –
Referenznummer: TMG-Research-Associate-India-03/18

Together with project partners, the successful applicant will implement the research project in India, more specifically in up to two federal states yet to be identified with the project partners. Specifically, the incumbent would be expected to:

work with the project coordinator to design the applied, transdisciplinary research program on Ecosystem-based Adaptation with a focus on India.
implement the research program in cooperation with a range of different stakeholders and ensure smooth communication with them.
support the project coordinator in managing the work program, including budgeting, ensuring process and output quality, controlling, and reporting.
establish and maintain partnerships with organizations relevant to the project in India and at the international level.
contribute to the further strategic and scientific development of TMG Research.

What we offer:

The opportunity to work in a high-profile, international research project.
The opportunity to work in an organization that strives to make "Science with Society" a reality.
Excellent contacts to a range of national and international political and research organizations.
A dynamic working environment in a recently founded start-up that offers room for contributing to profile and strategy development of the organization.
The position will be remunerated in accordance with the German salary group TVöD 13.

This position is to be filled as soon as possible. The first phase of the project will end in December 2018. A second phase of the project is already agreed upon, but is dependent on the project's performance in 2018. TMG is an equal opportunity employer. Applications, including a cover letter and a full CV with two referees should be sent no later than 3 April 2018 by e-mail to Ms. Ilka Mai ([email protected] ).

The interviews will take place from 11 – 13 April 2018.

For further information and details on this position please contact Ms. Ilka Mai.
Anforderungen:

Requirements:

Master's degree in international development, economics, politics, or a related field in sustainability science.
At least three years of relevant work experience and experience in working within an international environment.
Ability to work effectively, diplomatically and sensitively with a wide range of partners from science, politics and civil society.
Ability and willingness to travel frequently to the partner countries.
Highly proficient at establishing strong partnerships across organizations and cooperating with stakeholders at all levels to achieve the project's intended outcomes.
In-depth knowledge on issues of adaptation to climate change, resource management, and collaborative learning processes.
Excellent oral and written communication skills in English, good working knowledge in Hindi.
Good working knowledge of German is an asset, as well as willingness to further improve language capacities if necessary.
Enthusiasm, flexibility, strong team-sprit and a commitment to working within a transdisciplinary, policy-relevant research field.
Bewerbungsschluss:

03.04.2018
Anbieter:

TMG Research gGmbH
EUREF Campus, Haus 6-9, 4.OG
10829 Berlin
Deutschland
Ansprechpartner/in:

Ilka Mai
Telefon:

+49 (0)30 92 10 74 07 66
Fax:

+49 (0)30 92 10 74 07 99
E-Mail:
Sonstiges:

Referenznummer: TMG-Research-Associate-India-03/18
(Ursprünglich) veröffentlicht am:

12.03.2018